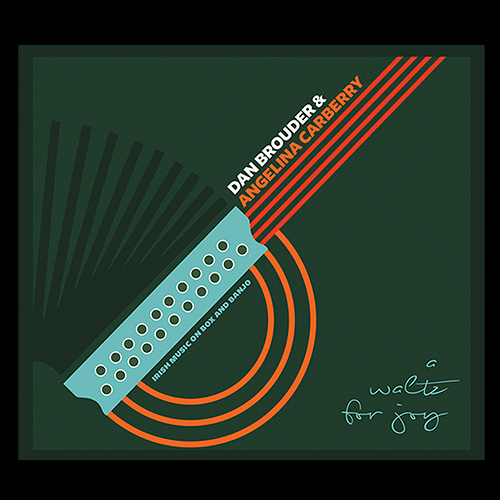 Angelina Carberry & Dan Brouder
Angelina Carberry and Dan Brouder's "Waltz for Joy" has made a special contribution to the long line of banjo/box combinations.
The banjo and button accordion make a bold, powerful pair. The former, a product of Africa, began to take its now-familiar form in 19th-century America, just as the latter was invented and started its spread across Europe from Germany. A century of subsequent technical refinement yielded a pair of streamlined, highly developed machines that might be considered musical icons of the industrial age representing, in tone and timbre, a history and experience that speaks to a spirit of enterprise, innovation, and modernity.
Although used in a variety of ways, the two instruments together have comprised one of Irish music's enduring, iconic sounds for over a century. Just shortly after the Rising, for example, Edward Herborn (accordion) and James Wheeler (banjo) made a series of records for Columbia at the behest of Ellen O'Byrne DeWitt that pioneered this combination on disc. Then, in early 1921, the Flanagan Brothers, with Joe on accordion and Mike on banjo, recorded the first of what would be well over 100 remarkable, popular sides featuring the two instruments. It continued in the late 1940s/early 1950s, when the great Joe Derrane and his brother George recorded some wonderful accordion-banjo tracks with the "Irish All Stars." In the late 1970s, legends Barney McKenna and Tony MacMahon proved it an excellent pairing on the "The Green Linnet" TV series. These are but a few specific examples, but there are many other important ones that come to mind, like Joe Cooley and Des Mulkere, Liam Farrell and Raymond Roland, and Johnny Og Connolly and Brian McGrath, all of whom have proven time and again how well these two instruments fit together.
And now there is button accordionist Dan Brouder & banjoist Angelina Carberry, who have recently released "A Waltz for Joy: Irish Music on Box and Banjo." A brilliantly executed album, "A Waltz for Joy" catches both musicians in excellent form. But because they get so much subtlety and nuance from a pair of instruments that aren't always synonymous with those words, I think their work here not only stands tall with any of the banjo/box combinations mentioned above, it represents a special contribution to the banjo/box lineage.
Brouder's playing here is relaxed and confident. He doesn't seem to be trying to do too much; rather, he seems to be about the ensemble work, letting the instrument's tendency for long, sustained notes hold up his end of things. To this, Carberry brings lovely phrasing and ornamentation accentuated by the thick, punchy tone she pulls from her banjo. This combination results in richly textured, weighty music that is nonetheless light on its feet and never feels like it's off to the races. Standout tracks include "The Battle of Dunboy / …," "The Kerry Reel / …," "McCarthy's / …," and "Glenmorgan House / …" (on which Carberry plays tenor guitar). Listeners, I feel, will be especially drawn to "A Waltz for Joy / …" as well.
The album features a great selection of tunes overall. In addition to the jigs and reels (which account for a little over half the album's music), there are three tracks of hornpipes, some hop jigs, and a few waltzes. The tunes themselves are a mixture of old and new. Some come from the likes of Connie O'Connell, Charlie Lennon, Tommy Peoples, and Finbarr Dwyer, while several others are sourced from "Tunes of the Munster Pipers, Vol. 2," the recently published book of tunes that Canon James Goodman collected in the 1860s. It's an interesting assortment that trends away from the all too familiar.
Joining Brouder and Carberry at various points on the album are a number of outstanding guest musicians, including Brian McGrath (piano), Johnny McDonagh (bodhrán), John Blake (guitar), Brian Mooney and Ruairi McGorman (bouzouki), all of whom make outstanding contributions. Siri Snortheim (cello) and James Blenderhassed (bass) join Brouder and Carberry on "A Waltz for Joy / …" and add lovely, unusual texture that fits perfectly.
In the album's liner notes, the Cork fiddler and composer Connie O'Connell calls this album "one of the best banjo and accordion duet recordings of all time" and I wholeheartedly agree. It projects a spirit of pure-droppedness that makes it an easy album to listen to and enjoy and one that will richly reward the time spent listening to it. "A Waltz for Joy" is a very special album, indeed. Highly recommended.
– Daniel Neely March 30, 2017
Musicians:
Brian McGrath: piano
Johnny McDonagh: Bodhran
John Blake: guitar
Brian Mooney: bouzouki
Ruairi McGorman: bouzouki
Siri Snortheim: cello
James Blennerhasset: bass